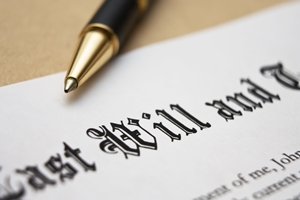 Common mistakes when drafting your own estate plan
We discussed some of the dangers of drafting your own estate plan last week as well as the questions to keep in mind if you're thinking about doing it yourself. For those that are still determined to create an estate plan alone, there are some common mistakes that DIY drafters routinely make that you should be aware of. To learn more about the kinds of things individuals often get wrong (and that an experienced estate planning attorney will be sure to get right), keep reading.
Placing conditions on payouts
One of the most common sources of trouble for those drafting their own estate plans is when it comes to conditions on payouts to heirs. Those drafting for themselves can get carried away on occasion, placing illegal or unenforceable conditions on certain payments. For instance, if you stipulate that a child must divorce a spouse you don't like before receiving his or her inheritance, courts will deem this as against public policy and will refuse to enforce it. In other cases, DIY drafters will insert language that requires someone to follow up to validate performance (such as a child graduating from college or seeking treatment for an addiction), but won't think to include language explaining who is in charge of validating that this actually occurs and how much that person should be paid for the work.
Wills vs. living wills
Another common mistake is that people are confused and aren't sure where to put end-of-life information. Many will assume that the way to handle this by inserting language in their will. What they should do is create a living will, which exists for the sole purpose of tackling these questions. The problem with a will is that it likely won't be read until after the person has passed away, meaning it's too late to be of any use.
Second marriages and blended families
Another common problem for those drafting their own wills is failing to take into account the special challenges of blended families. A simple will leaving your belongings to your spouse may make sense if you're still in your first marriage. It may not make as much sense if you're on marriage #2 (or #3). The problem is that if you die and leave everything to your spouse, if you aren't careful then when your spouse dies your children may miss out, with your spouse's heirs inheriting everything. An experienced estate planning attorney knows to watch out for these issues and will craft a plan to ensure that your loved ones remain protected no matter what.
Pets
Though it may sound funny, experts say it is very common for people to want to be sure that their pets are well taken care of. Those who are drafting their own estate plans fall into fairly predictable traps when it comes to their pets. In a rush to ensure their animals are looked after, they insert language into their will leaving money or valuable items of personal property directly to the pet. Doing this is a big mistake. You need to leave money not to the pet (who is not a legal person), but to a human being who can be named as a caretaker of the pet. This is the only way to ensure your pet is properly cared for after you're gone.
An experienced Minnesota estate-planning lawyer can help walk you through the complicated process of establishing a workable estate plan. For more information on estate planning in Minnesota, along with a variety of other topics, contact Joseph M. Flanders of Flanders Law Firm at (612) 424-0398.
Source: "The Case Against Do-It-Yourself Wills," by Deborah Jacobs, published at Forbes.com.
Related posts: